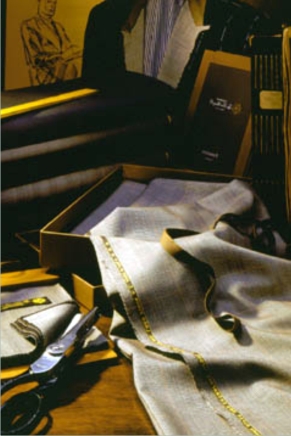 Complete Customised Tailoring & Fabrics !

The APPEAL stores offers a completet customised tailoring and fabrics providing you with a complete wardrobe planning and service according to your business and social needs. We tailor Corporate Suits, Trousers, Shirts, Jeans, Salwar Kurta, Indian Tops, desinger wears and many more for men and women attire. The end result is one of unique quality and craftsmanship and a fit that is accurate to the millimeter.
Why Custom Tailoring ?
Perfect fit, Relaxation while looking great and Elegant with comfort and distinction. We do not customize a pre-made suit. Your suit is cut from a piece of cloth that we have made by analyzing your body shape. Furthermore, the tailor has used his skill, experience and expertise to imagine the suit on you while he takes his notes. This allows him to adjust any measurements accordingly as well as advice on what style and cut suit will suit you. Indeed the cut, style, colour and number of buttons are all chosen by you. The suit is therefore to your own exact specifications.
For us there is a big difference between
"good" and "perfect"
STITCHING !